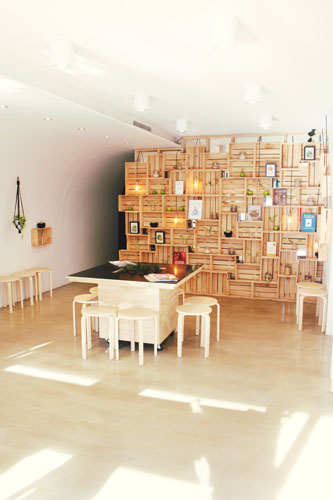 I had always wanted to try a juice cleanse but my follow through never exceeded my curiosity, until recently. After weeks of being sick and on antibiotics, not to mention a few bad food binges and alcohol consumption, I decided that I was perfect candidate for a juice cleanse. I had previously done a lot of research into this area and found a few companies that were highly recommended. However, I needed to do this on a budget, a budget of a maximum 200 dollars. I thought I would never find a cleanse that would suit my bank balance, as many I had researched were quite expensive, some even double what I was wanting to pay. As I recently started following the newly developed and highly praised Pressed Juices on Instagram, I thought I would head down to their Hawthorn store, to see what it is all about.
Upon my arrival I was met by an organic, rustic meets modern interior, with a smiling face and warm greeting from one of the "juice experts". She sat me down and went through everything. Explaining that a juice cleanse is not a holiday and I wouldn't be drinking strawberry and watermelon juice all day. She articulated that a cleanse needs dedication and the right mind set. She was right.
Taste testing my potential juices was very interesting. Some didn't strike my taste buds others made me salivate. But all were sure to detox my body. What was most impressive was how quick the sign up process and organisation of my cleanse occurred. From choosing the juices to the delivery times, everything was completed in a professional manner.
So here were my choices:
Greens 2- apple, celery, cucumber, kale, lemon, lettuce,
parsley, spinach
Earth 4- Apple, Carrot and Ginger
Zest 2- green apple, lemon, mint, pineapple
Zest 3- grapefruit, mint
chocolate almond milk- almonds, cacao, dates, filtered water, sea salt
spiced almond milk– almonds, cardamom, cinnamon, dates, filtered water, nutmeg, sea salt, vanilla bean
Potassium Plus- coconut flesh, coconut water, pomegranate, banana
How I felt on my cleanse:
Although day one was relatively easy, going to my local shopping centre and passing The Cup Cake Factory, was not the highlight of my day. Physically I felt quite good. I was not lacking energy and I never felt hungry as the juices were so filling. At times getting through the green juices could be tough, but you learn to just ride the emotions and know that the every nutrient is helping to repair your body. A juice cleanse takes dedication and will power as I mentioned before. Sometimes you will crave chocolate or a coffee but knowing that you are doing good things for your body will push and drive your dedication to the cleanse. I found that I really looked forward to dinner time, as the Coconut and almond milk based juices were delicious. Being able to drink herbal tea (no caffeine) was certainly a bonus in this cold Melbourne weather. All in all, the cleanse was positive and I felt fantastic afterwards.
I would highly recommend heading to Pressed Juices if you are considering a cleanse or just want a delicious juice. Their advice is amazing and service professional. They are located in multiple areas around Melbourne and have just opened two stores in the Sydney suburbs of Surrey Hills and Mosman. Jump on their website and follow them on instagram for regular updates. @pressedjuices
Remember Handsome Wanderers, by nourishing your body with nutrient rich foods and juices, you are nourishing your life.
Divine Wanderer