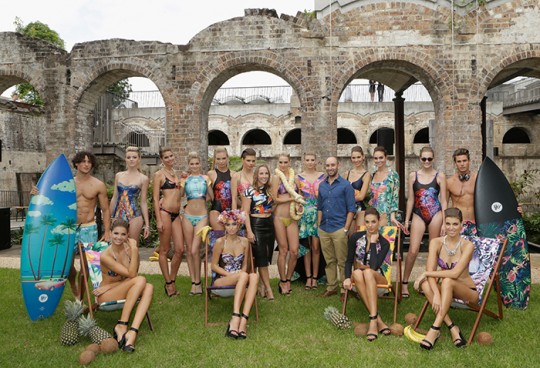 You guys. It's been a massive week. Scratch that. A massive month. Wrong again. It's been a massive SIX MONTHS of imagining, dreaming, designing, planning, cat herding, all in preparation for the release of The Catalyst & The Euphoria collections at Australian Fashion Week this past Tuesday. All the hard work, adrenaline-riding and lost sleep was worth it – the show came off smashingly, if we do say so ourselves!
Thanks to Clover Moore and the City of Sydney, we hosted the show at the beautiful Paddington Reservoir Gardens. While the Gardens have never seen a show like this, they're certainly no stranger to WAH folk – our founders had their wedding garden party there. Awww.
It was one of the last sunny days of summer, and the gardens were kitted out like a tropical oasis, complete with custom WAH-printed deck chairs and surfboards. Our fearless models shared their spotlight with Candy the elegant yellow python, as they grooved down the runway, all sexy smiles and legs for days.
Here are some of our favourite shots from the day, and while you check them out, have a listen to some tunes from the show.
Backstage
The looks
Neckpiece by Vera Xane
The Euphoria – The Shadow
The Catalyst – The Crusade
The Catalyst – The Flight
The Euphoria – The Hunted
The Euphoria – The Miasm
The Catalyst – The Bella Vista
The Euphoria – The Farrago
The Finale!
If you're dying to get your hot little hands on some of the looks, you won't have to wait long. The Catalyst will be in stores this July, and The Euphoria in November. Follow us on Twitter at @wearehandsome to stay up to date. In the meantime, check out our current collections.
You can follow me on the Twitter @cultofclothes