[youtube_sc url="http://www.youtube.com/watch?v=WjScqg9f0ps"]
To continue the stunning fashion dawning the runway at MSFW this week, for the first time the top design schools in the Victoria have come together to provide a glimpse into future fashion, by celebrating the next generation of talented designers. The talent from Melbourne School of Fashion, Kangan Institute, Box Hill Institute and the Whitehouse Institute of Design Australia was unbelievable and certainly proved promising for the Australian fashion industry in the coming years.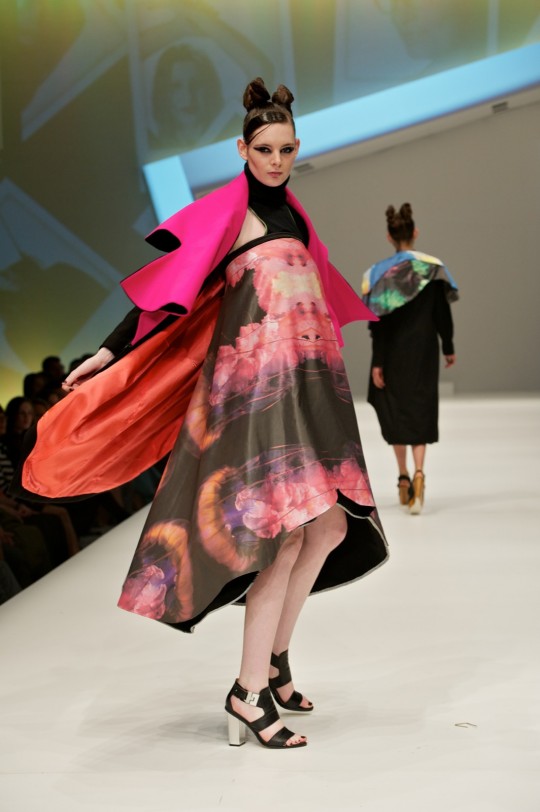 The show was pumping with perfect party tunes, an epic atmosphere and eager design students awaiting their time to shine. You could just feel the appreciation for innovative fashion throughout the venue. There were many creative and stunning designs, with the students showing off their visions. Leather made a huge appearance, as did metal buckles, monochrome, structured draping, layering and fur. Androgyny was certainly represented on the runway with oversize blazers and coats, high waists, geometric shaping and tailored pants.
Standout designs from Carla Noto and Harrison Wood from the Whitehouse Institute with white layering and hints of fur from Noto and heavy structured elements from Wood. From the Kangan Institute Laura Petruccelli's garments fused luxury and street with neon cashmere draping and vivid graphic prints. Melbourne School of Fashions Brendan Smith tapped into the renaissance and baroque era with his elaborate and ornamental shapes.
The talent is high and I look forward to seeing what the future brings for these young and creative designers.
Keep watch as we continue to update you on everything MSFW in the coming days. To see the program jump onto the website and follow the festival on twitter @msfw
Divine Wanderer