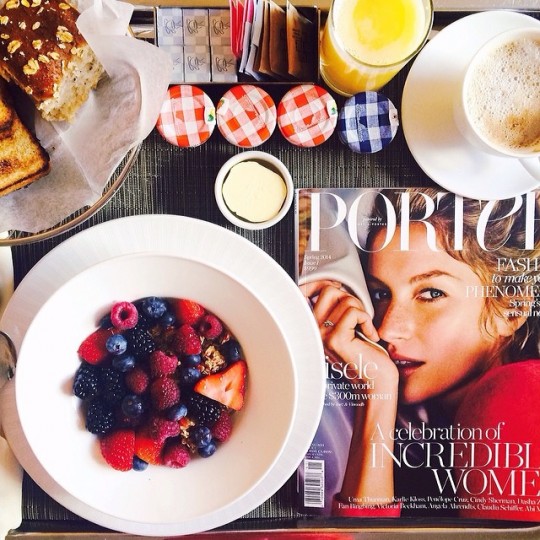 Breakfast has become a sacred ritual. We cherish those few rare moments of blissful quiet that only comes first thing in the morning. Breakfast time is all about messy hair, oversized shirts and flicking through the glossy pages of Vogue. Whether you love photography, fashion, beauty, fitness or travel, decide what you're feeling inspired by each day and roll with it. We love to a blend food, fashion and of course, coffee first thing to create the ideal breakfast atmosphere. Our mornings involve cute coffee table art and delicious soul food.
Breaking your fast in style calms the mind for the day ahead. Set the mood with some awesome coffee table Feng Shui. It can be as humble as a sweet flower arrangement or a colour popping fruit bowl. We love to surround ourselves with the oh-so-pretty things in life at breakfast time such as new outfit ideas and amazing accessories. These charming details allow you to re-establish a love for the simple things. Take a soothing break from the daily chaos and create a reason to look forward to waking up.
There's nothing better than a healthy, nutritious and mouth-watering breakfast to start your day. Breakfast is essential, there's just no getting around it. Having a proper feed first thing kick starts your digestion, metabolism and feeds your body the necessary vitamins and minerals it needs to function at its best. Indulge in our super delicious brekkie ideas that help make the morning your favorite time of the day. We deliver you some soul foods that frequently feature in our morning routine.
Bircher, black tea and The Sartorialist is an unbeatable morning combination. A nourishing Bircher bowl can be achieved by simply mixing rolled oats with nuts, seeds and coconut flakes. Soak in your preferred milk or coconut water and yoghurt overnight. Bircher muesli can be made and stored in the fridge for several days, so why not make a big batch to get you through the week? You can also play pick 'n' mix with the ingredients for more variety. Goji berries, dates, dried apricots, grated apple, blueberries, chia seeds and roasted almonds are great mix-in ideas.
Sugar hit anyone? French toast is an indulgent breakfast that truly nourishes the soul. This European classic can be done in a healthy way, we promise! Try sourdough bread soaked in a mix of eggs, milk and cinnamon, lightly fried in coconut oil. To serve we recommend a drizzle of raw honey, topped with fresh fruit of your choice. Banana and blueberries is always a winning combo.
Lets be honest…any combination of fine food and fashion will get us every time. Who would want to eat a plain peice of toast watching the news (boring!) when you could be enjoying decadent bircher muesli, a chai latte and the latest digest of Garance Dore? That is certainly our kind of morning.