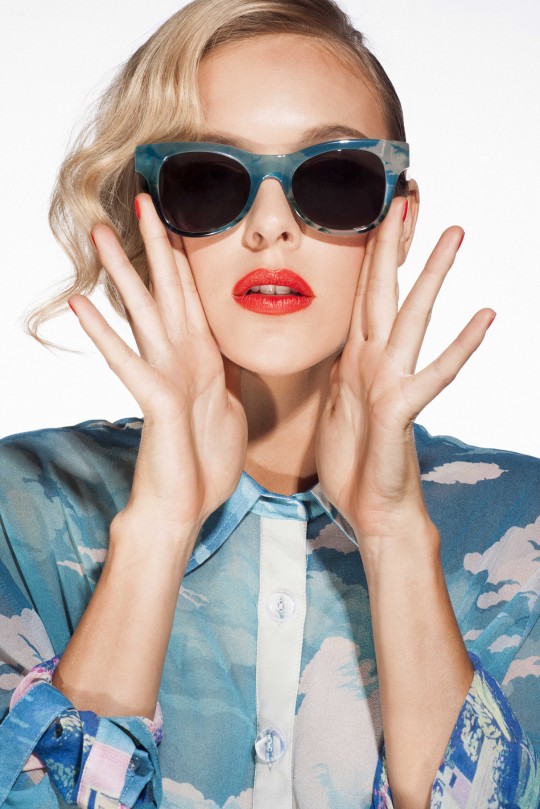 Today we're so proud to show you what we've been working on for many months: Our first foray into accessories – a sunglass collaboration with famed boutique Australian Eyewear brand Isson.
Working with Catherine Fererici, Isson's owner and designer, we produced 3 original frames and spent countless hours figuring out the best way to present our prints within the frames. This was a challenge within itself. You may have seen other brands' printed glasses before, but printing on a cheaper plastic (what most eyewear is made from) is very different than printing on premium Italian Acetate (this is what most high end eyewear is made from).
After quite a few "mis-attempts" we got the process right and were completely wowed with the outcome. We've produced 3 styles across 3 of our favourite prints of the year totaling nine styles in the range.
Each sunglass is hand crafted using custom made Italian acetates featuring our latest season prints , a unique We Are Handsome identifiable metal temple trim, French lenses and German hinges. All Isson & We Are Handsome collaboration pieces come with a matching printed cleaning cloth and leather case.
Below you'll find a description of each style and it's influences and of course you can purchase a limited edition pair directly from us. For the next week or so, we have a special pre-sale on the website for delivery of the very first pairs to arrive at your house the beginning of october.
The Liza is no wall flower. A bold and yet very wearable oversized aviator has the power to impress with it's simple and striking shape. Best suited to mid and larger faces. Isson & We Are Handsome collaboration pieces are each limited to 100pcs.
The Maya
A little powerhouse retro style with punch, The Maya is playful and compliments the face with just enough attitude. Best suited to small and mid-sized faces.

The Maude
Putting a spin on a classic shape with cats-eye tendencies, and incorporating vintage bridge elements,
The Maude is your go-to woman for summer lazing with friends with luxe. Best suited to mid and larger faces.

Again, you can see all the styles and pre-purchase from our website.